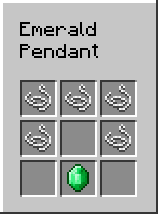 The Emerald Pendant is a pendant added by the Pendants idea pack. It is worn in the special pendants armor slot. It is crafted with 5 String and 1 Emerald.
Effect
There is a 25% chance that an Emerald Ore block will generate next to any Diamond Ore, Gold Ore, or Lapis Lazuli Ore mined.
Villager Trades will include "cheaper" items for "expensive" items
Ad blocker interference detected!
Wikia is a free-to-use site that makes money from advertising. We have a modified experience for viewers using ad blockers

Wikia is not accessible if you've made further modifications. Remove the custom ad blocker rule(s) and the page will load as expected.